Payment Options
PrinterShare for Mobile Devices
Printing to Nearby Printers does not require an account; you will need an account only in case you would like to do Remote Printing. When you purchase the Premium app you will get a Basic type of account upon registration, which will still mean that you can print without any limitations in Remote Mode from a mobile device. Having a Premium Key or a Premium App means that you do not have to buy more pages (Economy Package) or Subscribe to a Premium Account. Please note that with the free Android PrinterShare app you can print via Google Cloud Print service (no Premium Key required). Free version of PrinterShare app will also let you print 20 pages total over the Internet in Remote Mode; this 20-page credit is not replenished monthly and once it is exhausted you will need to purchase Premium app to lift the restriction.
The following are payment options for mobile users and these licenses cannot be used with desktop PrinterShare version: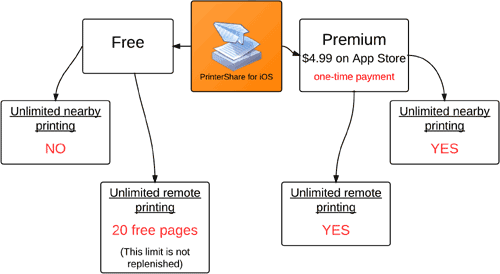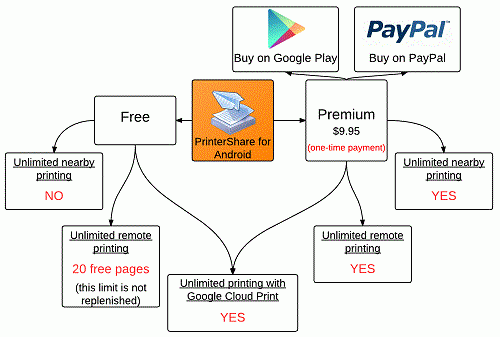 As mentioned above, having a Premium app still means that its user will have a Basic account for remote printing and whenever one logs into an account in desktop PrinterShare console, there will be a page limit displayed; still, whenever one prints to a remote printer, the page limit will stay at the same value and will not diminish. If you see that the page limit is reduced after printing from a mobile device, you will need to check whether you are using a Premium app. Refer to FAQ of a corresponding platform (iOS, Android) and follow procedure that will allow you to retrieve your Premium app.
If you would like to purchase licenses for our mobile app in volume, we can provide you with a discounted price. Contact our technical support team and we will provide you with the needed information. The more licenses you purchase, the bigger the discount.
PrinterShare for Windows/Mac OS
When you install PrinterShare on your desktop, you automatically receive Basic package upon registration – 20 free pages that you may use for testing the service. You may upgrade to or cancel your Premium monthly subscription at any time. Economy payments are not recurring and as with the initial 20 pages that you receive upon registration for free, once you have exhausted this credit of additional 100 pages, you will either need to purchase another Economy Package or upgrade to Premium Subscription to enjoy the ability to print remotely.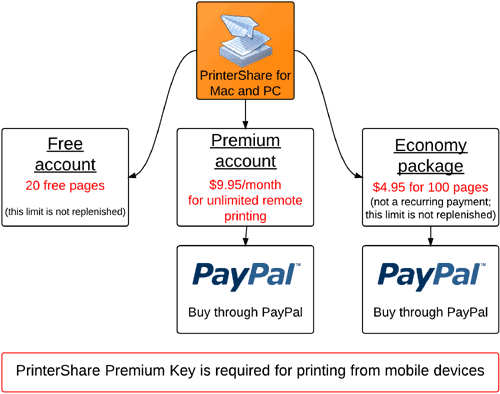 You can use the same account from several locations (for instance to print from office computer or mobile phone to your printer at home). The highest level of subscription between sending and receiving ends is in effect. For example, if you send print from Premium account and receive them on Basic account, there's no limitation on the number of pages. The printing and subscription options above are intended for individual users. For commercial implementations or groups of users please check out our Commercial Solutions to find options that better fit your needs. If a print job is received from a mobile device with Premium PrinterShare app installed, the number of available pages will not go down.
Deleting your account
Basic: Normally you don't need to delete it. Just leave it there, and it will be deleted automatically after 3 months of inactivity. If for some reason you need to delete the account sooner, please contact our support. If you purchase Economy Package for your account, it will not be removed even though its status does not change from Basic.
Premium: To cancel your Premium subscription you need to login to your PayPal account and do it there. We'll automatically switch your account to Basic mode. All recurring payments are handled by PayPal and we cannot act there on your behalf.
You may switch back to Premium mode later on or buy Economy package. If you don't use PrinterShare your account will be deleted in 3 months of inactivity. Please contact out support to delete it sooner if needed.
Contribution rewards
We want to translate PrinterShare to many languages so it's accessible to more people around the world. You can get free 3-month Premium subscription in exchange for providing a new PrinterShare language pack (and sometimes for updating an existing one). You will need to translate about 500 lines of text. See technical details if you are interested. Contact technical support for further details.